Extreme SEAL Experience Blog Archives
Added: Thursday April 03rd 2008
By: Don Shipley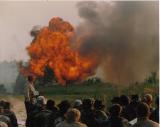 I ran my first booby trap course as a new SEAL and smoked it doing very well. Trapping as a kid and access to demo in SEAL Team went well together setting up my own booby trap courses. The courses normally consisted of 100 meters of trail, ten traps and ten targets to shoot.
Scattered along were ten military type objects laying off the trail and hung in trees for the guys to pick out.
I'd do a wild ass explosive filled class teaching booby traps and then one at a time the guys would run the course. It began with "KIMS" Game or "Keep in Memory. I'd pull back a poncho with ten items under it like a bullet, ear plug, compass and allow a one minute study. After the course, the clock stopped, bullet holes were counted, time was added for traps that they had tripped, items they saw on the trail counted and KIMS played into it for an overall score.
I always worked hard to trick them at the start of the class as guys coming had already heard "Don't touch anything"...


Tags:
Added: Thursday April 03rd 2008
By: Don Shipley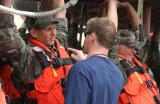 Uncle Ray was my favorite BUD/S instructor. He was also the most feared in my class. Chief Ray could dole out punishment like few others to make his point but he was also a born comedian. If I think back to the funniest thing I ever saw or heard, Ray had done or said them.
Ray liked me after I proved I was there for the long haul, but he let his affection for me show in strange ways.

NOBODY in first phase passes uniform inspection, nobody and Ray would give them. They were conducted Monday mornings and you had the weekend to prepare. Starching hats, spit shining boots, all of it in a desperate attempt not to fail as punishment was a trip to the surf zone and sand berm runs and the hard work was ruined.

Our numbers had shrunk after Hell Week and I was the class leading petty officer. First phase was ending and Ray shows up for our final phase inspection.

Ray begins moving through the ranks picking guys apart for infractions and a steady stream of...


Tags:
Added: Friday April 11th 2008
By: Don Shipley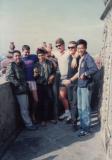 Mikey W was a Thai SEAL Officer in my BUD/S Class. He was already qualified as a SEAL in Thailand surviving that arduous training and why elect to go through BUD/S with us; he was just tough. A small guy who always smiled, he was popular in the class and he came with another Thai Officer. During Hell Week one of our instructors told Mikey to tell a joke in Thai. Mikey began a rambling babble for 40 of us which no one could understand and when he hit the punch line the other Thai began laughing. While we didn't understand the joke we almost threw up laughing when the other Thai did.
A few years later my Platoon from SEAL Team ONE arrived in Thailand for Joint Training with our counterparts. The Thais compound was on an island that housed their only Team; SEAL Team ONE and Mikey was the Commanding Officer. Their BUD/S Training was in the same compound and they put one class through a year.
We had a deep respect for the Thais as they did so much with so little. Very...


Tags: