GOT WHAT IT TAKES?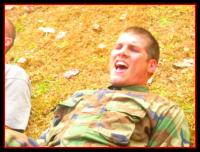 Hell Night 'Belly of the Beast' is an intense 24-hour endurance course derived from Navy SEAL 'Hell Week' and instructed by a cadre of veteran SEALs and Advanced SEAL Instructors.
Read more >>
What Our Guys Say
I just wanted to give the biggest THANK YOU to you, Mrs. Shipley. The buck I shot at 160 yards this November wasn't a shot I would've even considered taking before I got the top-of-the-line shooting instruction you both provided. Can't say enough how much I appreciated that instruction. Mrs. Shipley's food is just about reason enough for me to want to be out there for both weeks! I know I speak for all of us when I say how much we are humbled and appreciative for the work you all put in to the courses - even in the "off-season".

Joey McHale Class Leader - Advanced Course 09/10

What Our Guys Say
Don
The training, experiences, accomodations, food and commraderie were well worth the price. For the younger guys heading to BUD/S this course is invaluable and it should be a "must attend". I would highly recommend this course for anyone interested in the SEALs. I certainly learned a lot of new things and also discovered personal weaknesses needing improvement. I plan on attending AOT next year. Thanks again for a great week of training!
God Bless the US Navy SEALs

John Cook

You are here - > WHERE DO SEALS GO FOR SNIPER SCHOOL?


WHERE DO SEALS GO FOR SNIPER SCHOOL?
QUESTION: My Uncle was in military just barely retired after 20 + years and he said I should be a Officer because he said he wish hed went to college and not get treated like shit and get more money etc. But now that you told me its selective I might have to think about that and do SEAL Snipers go to Marine Scout Sniper Training because its good sniper school, a Army Ranger told me that some of them do because its the best sniper school - Johnny (
ANSWER: We go to SEAL Sniper school in Indiana all run by SEALs. A tough course and the attrition rate is high. Each SEAL Platoon has at least two Snipers in it. Many SEALs want to be Snipers and when a slot becomes available at Sniper School they ask to go. I wont compare it to the Army or Marines as each is very tough and teaches the same principals. Its enough to say that in the current conflicts, all Military Snipers have been kicking ass...
I was never treated like shit being enlisted, but I guess it all depend on who you are. The Military goes out of its way to look after everyone in its ranks, Officer and Enlisted. You get out of it what you put into it. Ive seen plenty of guys treated like shit, and all of them acted like shit in the first place to rate that special treatment.