What Our Guys Say
Don
The training, experiences, accomodations, food and commraderie were well worth the price. For the younger guys heading to BUD/S this course is invaluable and it should be a "must attend". I would highly recommend this course for anyone interested in the SEALs. I certainly learned a lot of new things and also discovered personal weaknesses needing improvement. I plan on attending AOT next year. Thanks again for a great week of training!
God Bless the US Navy SEALs

John Cook

GOT WHAT IT TAKES?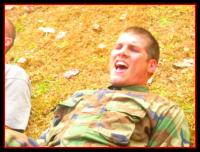 Hell Night 'Belly of the Beast' is an intense 24-hour endurance course derived from Navy SEAL 'Hell Week' and instructed by a cadre of veteran SEALs and Advanced SEAL Instructors.
Read more >>
What Our Guys Say
I just wanted to give the biggest THANK YOU to you, Mrs. Shipley. The buck I shot at 160 yards this November wasn't a shot I would've even considered taking before I got the top-of-the-line shooting instruction you both provided. Can't say enough how much I appreciated that instruction. Mrs. Shipley's food is just about reason enough for me to want to be out there for both weeks! I know I speak for all of us when I say how much we are humbled and appreciative for the work you all put in to the courses - even in the "off-season".

Joey McHale Class Leader - Advanced Course 09/10

You are here - > SPETSNAZ SEALS TRAINING


SPETSNAZ SEALS TRAINING
QUESTION: I was interested in a Russian Spetsnaz course and Russian Special Forces Seals Training. Have you attended either or worked with the Russians? Is any of their training in your course.
ANSWER: I have not attended either, nor worked with the Russians before. I have trained to fight them for years so I know a lot about them. None of their training is in the course.
I saw something where they teach Russian Shovel Fighting, whatever that is, and I'll leave a few shovels laying around if guys want.
If a Russian ever came at me with a shovel, Id just shoot him.
Thats what we teach here and its pretty effective.