You are here - > SENIOR CHIEF DON SHIPLEY


SENIOR CHIEF DON SHIPLEY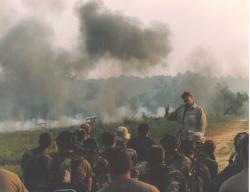 Don Shipley retired as a SEAL Senior Chief in 2003. He served ten years at SEAL Team TWO, also serving at SEAL Team ONE, the Naval Special Warfare Center and Naval Special Warfare Group TWO in Little Creek Virginia, as a SEAL Advanced Training Instructor.
When not in a SEAL Platoon or deployed overseas, his time was spent running blocks of training for SEALs in air operations, land warfare, and demolitions.
As a SEAL he preferred the challenge of Mountain and Arctic Warfare but began his career in the equally hostile desert environment, spending much of his time in the worlds hottest and coldest climates.
He served in eight SEAL Platoons, was Platoon Chief in five, and awarded the Navy and Marine Corps Medal for Heroism during a Search and Rescue Mission. He also conducted numerous operations in Bosnia and Liberia, Africa while at SEAL Team TWO.
Setting records for immense water and land demolition shots and running High Risk training courses, he also served as an Explosive Expert instructing Police Departments across the country in Booby Traps and Improvised Explosive Devices.
After retirement he became a security contractor, spending a year in Pakistan and Afghanistan. He resides in Chesapeake Virginia with his wife. His son is a SEAL stationed at Little Creek and on his second combat tour overseas.