What Our Guys Say
I just wanted to give the biggest THANK YOU to you, Mrs. Shipley. The buck I shot at 160 yards this November wasn't a shot I would've even considered taking before I got the top-of-the-line shooting instruction you both provided. Can't say enough how much I appreciated that instruction. Mrs. Shipley's food is just about reason enough for me to want to be out there for both weeks! I know I speak for all of us when I say how much we are humbled and appreciative for the work you all put in to the courses - even in the "off-season".

Joey McHale Class Leader - Advanced Course 09/10

What Our Guys Say
Don
The training, experiences, accomodations, food and commraderie were well worth the price. For the younger guys heading to BUD/S this course is invaluable and it should be a "must attend". I would highly recommend this course for anyone interested in the SEALs. I certainly learned a lot of new things and also discovered personal weaknesses needing improvement. I plan on attending AOT next year. Thanks again for a great week of training!
God Bless the US Navy SEALs

John Cook

GOT WHAT IT TAKES?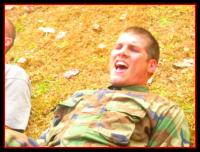 Hell Night 'Belly of the Beast' is an intense 24-hour endurance course derived from Navy SEAL 'Hell Week' and instructed by a cadre of veteran SEALs and Advanced SEAL Instructors.
Read more >>
You are here - DON SHIPLEY NAVY SEAL


DON SHIPLEY NAVY SEAL
Don Shipley retired after 24-years in the Navy as a SEAL Senior Chief in 2003. He served at SEAL Team ONE, SEAL Team TWO, the Naval Special Warfare Center (BUD/S) and Naval Special Warfare Group TWO in Little Creek Virginia as a SEAL Advanced Training Instructor.
When not in a SEAL Platoon or deployed overseas his time was spent running blocks of training for SEALs in air operations, land warfare, and demolitions.
As a SEAL he preferred the challenge of Mountain and Arctic Warfare but began his career in the equally hostile desert environment, spending much of his time in the world's hottest and coldest climates.
He served in eight SEAL Platoons, was Platoon Chief in five, and awarded the Navy and Marine Corps Medal for Heroism during a Search and Rescue Mission. http://articles.dailypress.com/1996-07-03/news/9607030168_1_crew-members-merchant-ship-aboard
He conducted operations in Bosnia and Liberia, Africa while at SEAL Team TWO and became the first Non-Corpsman SEAL to graduate Paramedic School.
Setting records for immense water and land demolition shots and running High Risk training courses, he also served as an Explosive Expert instructing Police Departments across the country in Booby Traps and Improvised Explosive Devices.
After retirement he became a Blackwater Security Contractor spending a year in Pakistan and Afghanistan. He resides in Chesapeake Virginia with his wife. His Son has been a Navy SEAL for over a decade. He attended SEAL Training at 17 years old, becoming one of the youngest men to ever graduate BUD/S.