What Our Guys Say
I just wanted to give the biggest THANK YOU to you, Mrs. Shipley. The buck I shot at 160 yards this November wasn't a shot I would've even considered taking before I got the top-of-the-line shooting instruction you both provided. Can't say enough how much I appreciated that instruction. Mrs. Shipley's food is just about reason enough for me to want to be out there for both weeks! I know I speak for all of us when I say how much we are humbled and appreciative for the work you all put in to the courses - even in the "off-season".

Joey McHale Class Leader - Advanced Course 09/10

What Our Guys Say
Don
The training, experiences, accomodations, food and commraderie were well worth the price. For the younger guys heading to BUD/S this course is invaluable and it should be a "must attend". I would highly recommend this course for anyone interested in the SEALs. I certainly learned a lot of new things and also discovered personal weaknesses needing improvement. I plan on attending AOT next year. Thanks again for a great week of training!
God Bless the US Navy SEALs

John Cook

GOT WHAT IT TAKES?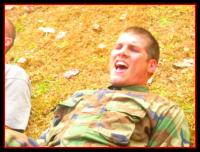 Hell Night 'Belly of the Beast' is an intense 24-hour endurance course derived from Navy SEAL 'Hell Week' and instructed by a cadre of veteran SEALs and Advanced SEAL Instructors.
Read more >>
You are here - > EYESIGHT REQUIRMENTS FOR BUDS AND SEAL TEAM.


EYESIGHT REQUIRMENTS FOR BUDS AND SEAL TEAM.
Becoming a Seal
Hi I was wondering if I could become a Seal if i have glasses iv been looking all over the web and i can find an exact answer. I plan on becoming an officer and I would like to be a Seal and the only thing physically wrong with me is my eyesight and I am hoping that that wont stop me from being a Seal.

Re: Becoming a Seal
Below is the "Official" answer to your question and a link to a discussion on the subject.
Bottom Line: Uncorrected vision can be no worse than 20/200 in each eye. Both eyes must be correctable to 20/20.
What that means is you CAN get a SEAL Contract with vision no worse than 20/200 "IF" the Navy can correct it to 20/20. You'll have the surgury before attending BUD/S.

Hope that helps... Don

http://community.active.com/thread/48355/starting-uncorrected-vision-need-clear-answer
SEALs are required to perform a variety of tasks that require a high vision aptitude. SEAL candidates may qualify for PRK Refractive Surgery to correct their vision. You can read more about the PRK policy on the BUMED PRK Refractive Surgery web site http://navymedicine.med.navy.mil. Eyesight Requirements: Uncorrected vision can be no worse than 20/200 in each eye. Both eyes must be correctable to 20/20 (Reference; Manual of the Medical Department, P-117, Chapter 15-105, Paragraph 7a(c)). No waivers for deficiencies. (Reference; Manual of the Medical Department, P-117, Chapter 15-105, Paragraph 7a(c).
NOTE: BUMED waiver request: Reference Manual of the Medical Department, P-117, Chapter 15-102, Paragraph 3 and 3a. For more information on current requirements, contact your local recruiter or reference Manual of the Medical Department, P-117, Chapter 15-102, Paragraph 3 and 3a, or http://navymedicine.med.navy.mil.
Eye Waivers
Ref: (a) COMNAVCRUITCOMINST 1130.8 (SERIES)
(b) Manual of the Medical Department P-117
I. Eye Sight waivers (Active Duty/Reservist)
a. Per the references, Eyesight Requirements: Uncorrected vision can be no worse than 20/200 in each eye. Both eyes must be correctable to 20/20.
b. BUMED waiver request: Reference Manual of the Medical Department, P-117, Chapter 15-102, Paragraph 3 and 3a.
c. The eyesight waiver must be included with the medical package per reference (a) to the SPECWAR Assignments (PERS 401D) for review.
d. The eyesight waiver request must be included with the completed BUD/S package for final approval from the SPECWAR Assignments (PERS-401D).
II. Photorefractive keratectomy (PRK) or In-Situ Keratomileusis (Lasik) surgery (Active Duty/Reservist)
a. IAW reference (b) PRK or Lasik surgery waivers are granted case by case by BUMED.
b. An approved PRK or Lasik surgery waiver must be included with your medical package per reference (a) to the Naval Special Warfare Center Medical Department for review.
c. The PRK or Lasik surgery waiver must also be included with the completed BUD/S package for final approval from the SPECWAR Assignments (PERS-401D).
NOTES:
Navy personnel or prospective recruits to the Navy who choose to have surgery performed by a civilian surgeon, they should complete the following checklist items: Review the Navy message that outlines refractive surgery policy for the Navy and Marine Corps (R 101331Z APR 00).
If planning to apply for BUD/S training, review the Navy message that outlines the requirements for new accessions into training (BUMED/30MAR2000/SER 25/NOTAL; refractive surgery policy in the Navy and Marine Corps for new accessions) and as specified by approved LASIK study protocols.
Complete the pre-op counseling form for active duty service members prior to getting PRK from a civilian provider (This document is posted as a link on the BUMED home page:
http://www-nmcp.mar.med.navy.mil/Ophthal/PRKSurgery.asp(Appendix 3).
Complete the post-op medical clearance for return to duty form after having PRK. (This document is posted as a link on the BUMED home page: http://www-nmcp.mar.med.navy.mil/Ophthal/PRKSurgery.asp
Clearance for return to full and unrestricted duty.
Questions regarding corrective eye surgery can be directed to the following department:
Deputy Research Director,
Navy Refractive Surgery Center
Ophthalmology, NMCSD
2650 Stockton Road
San Diego, CA 92106
(619)524-6733, FAX (619)524-1731
Clinic (619)524-5515