What Our Guys Say
Don
The training, experiences, accomodations, food and commraderie were well worth the price. For the younger guys heading to BUD/S this course is invaluable and it should be a "must attend". I would highly recommend this course for anyone interested in the SEALs. I certainly learned a lot of new things and also discovered personal weaknesses needing improvement. I plan on attending AOT next year. Thanks again for a great week of training!
God Bless the US Navy SEALs

John Cook

GOT WHAT IT TAKES?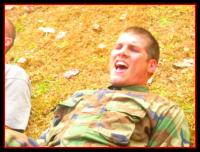 Hell Night 'Belly of the Beast' is an intense 24-hour endurance course derived from Navy SEAL 'Hell Week' and instructed by a cadre of veteran SEALs and Advanced SEAL Instructors.
Read more >>
What Our Guys Say
I just wanted to give the biggest THANK YOU to you, Mrs. Shipley. The buck I shot at 160 yards this November wasn't a shot I would've even considered taking before I got the top-of-the-line shooting instruction you both provided. Can't say enough how much I appreciated that instruction. Mrs. Shipley's food is just about reason enough for me to want to be out there for both weeks! I know I speak for all of us when I say how much we are humbled and appreciative for the work you all put in to the courses - even in the "off-season".

Joey McHale Class Leader - Advanced Course 09/10

You are here - > THE PUKE TEST


THE PUKE TEST
The "Puke" test
max push ups in 2:00
2:00 rest
max sit-ups in 2:00
2:00 rest
max push ups in 2:00
2:00 rest
max sit-ups in 2:00
2:00 rest
max push ups in 2:00
1:30 rest
max sit-ups in 2:00
1:30 rest
max push ups in 2:00
1:00 rest
max sit-ups in 2:00
1:00 rest
max push ups in 1:00
30 seconds rest
max sit-ups in 1:00
done!!!
The reason for the max put out is if you can get 50 or 60 good push ups/ sit-ups in 1:00 without stopping you have already passed that test and anything extra just makes you look that much better.
Work on being in a rhythm when you are doing the exercises and remember to breath your body has to have O2 to function and if you hold your breath your muscles are going to burn out a lot faster than normal.
Another trick is to stop trying to count when your working out, that's why you have a buddy. When you try and count you end up holding your breath and that's not good. Have your buddy count every ten reps and tell him to be loud when he does it.
He needs to keep you motivated and focused on breathing and staying in your rhythm... Good Luck